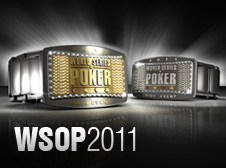 First bracelet for Matt Jarvis (Event # 40) 3rd place for French Mathieu Jacqmin and win Justin Pechie tournament # 41 domination of Benjamin Lamb Championship Pot-Limit Omaha (# 42), seven Quebec scholarships in the event # 43, no miracle Miguel 'Mig' Proulx at event # 44 and kept spotlessly performance of Jonathan 'Da_Engineer' Driscoll the event # 45 while 5 other Quebec survive the first day this tournament. Here is a summary of the June 26, 2011 at the WSOP.

Event # 40 (No-Limit Hold'em 6-max $ 5,000) - A first bracelet for Matt Jarvis
Justin and Matt Jarvis Flitz were back to finish the HeadsUp they had begun the day before. The least we can say is that they will not waste time to find the winner. It only took 5 hands for Jarvis confirmed to victory.
The first three were won hands preflop, the 4th hand was won by Jarvis while Flitz tried to bluff a draw to the flush failed. Then, on the final hand is Flitz has just pushed all-in with K9s while Jarvis called the bet with A8o. The table did not help anyone, and the "ace high" Jarvis was enough to bring him $ 808,538 and a bracelet first World Series of Poker.
This is the fifth bracelet for Canada, making Canada the second country with the bracelet (behind the USA) at the World Series this year.
Event # 41 (Limit Hold'em Shootout $ 1,500) - A third place for the French Mathieu Jacqmin

Eyes were turned to Eugene Katchalov, who had the opportunity to be the first player this year to raise two World Series bracelets. Despite a strong performance, Katchalov had to bow in 4th place (and raising $ 50,993). Meanwhile, the French Mathieu Jacqmin seemed the favorite when he was the leader in chips with only three players remaining, but things began to go badly for him and his stack was just plummeting to the point where he had to bow in 3rd place.
This left Justin Pechie and Dale Eberle, and it has never been able to find an ounce of momenthum this headsup while Pechie will only needed a ten minute to divest itself of its only opponent. Justin Pechie and won $ 167,060 and a first WSOP bracelet.
Event # 42 - Championship Pot-Limit Omaha $ 10,000 - Benjamin Lamb tries to dispose of the bitter taste of his 2nd place in event # 31.
Championship of Pot-Limit Omaha was the first event of the WSOP this year not to reach the paying seats in the first two days. Two players who were back for a third day after two grueling day of poker and percentage distribution empty. The player of the team PokerStars Pro Humberto Brenes was the first victim, followed by Jyri Merivirta on the bubble.
The action during the third day was quickly rushed, the profile of Benjamin Lamb and Sami Kelopuro who have been able to quickly fatten their carpets. Benjamin Lamb, who finished second earlier this year in another event Pot-Limit Omaha, has definitely been in control of the tournament throughout the day. While the game was forced to stop even with 4 players present, Lamb will begin the day today with the biggest stack and try to get rid of the bitter taste of his second place last week in Event # 31.
At the moment, besides Lamb (4.3m in chips), there is John Shipley (2.7m), Sami Kelopuro (2.1m) and Christopher King (1.6m). Although everyone has an eye bracelet and $ 814,436, the first player to leave may nevertheless take comfort in thinking that he is $ 273,575 richer ...
Event # 43 - No-Limit Hold'em $ 1,500 - Opportunity bracelet NessV and 8 in Quebec budget!

Yesterday has started with 385 players remaining on the 2857 initial enrollment. Among them, many Quebec (9) were able to survive the second day. Although the day 2 made a few winners, she has made no survivors among the Quebec delegation. No less than seven Quebec were nevertheless able to achieve revenue seats: only Francois Billiards (roo_400) and Jean-Christophe St-Pierre (jcstpierre) were not able to maximize their tournament.
Among Quebec who have reached scholarships, Francis-Nicolas Bouchard was the first to leave (in 176th spot) while yet the second Quebec with the most chips at the beginning of the day. He harvests still $ 3,394. He was followed moments later by Marc-Étienne Blais (Marke) and Patrick James McNamara (Pjamez) respectively 165th and 16th place ($ 3,779).
Thereafter, Robert Bonneau, who left the 135th place ($ 4,242), leaving Benoit Forcier, André Boyer and Ian Oshaughessy in the top 100. Benoit Forcier was forced to bow 82nd ($ 5,515), followed Andre Boyer (68th for $ 7,482). Unfortunately for him, Ian had Oshaughessy pack at the very end of the day, the 42nd. Trifluvian harvest $ 12,805 for his performance.
Action resumes today when Byron Kaverman has an impressive mat 1,345,000 chips to Douglas Tamashiro (722k) and Simon Watt (648k).
Event 44 - Seven Card Razz $ 2,500 - No miracle for Miguel 'Mig' Proulx.
No miracle for Miguel Proulx: having survived the first day of hostilities, it has not been able to repeat his feat at the second day as we are now only 23 players remaining.
Tommy Chen is the leader in chips for the moment, with an impressive 473K in chips (his closest opponent only by John Monnette 205k, 174k followed by George Lewis). Chen was so dominant during the day that earned him the nickname "Razz Machine".
John Monnette, currently in second position, will have to get rid of Tommy 'Razz Machine' Chen if he wants to become the first player to win two WSOP bracelets this year.
Two members of Team PokerStars are still in contention: Chad Brown and Victor Ramdin. Brown, which had learned in February that he was suffering from cancer, has a final table to his credit this year at the WSOP while Ramdin has positioned itself among the paying seats for the fifth time this year.
Event # 45 - No-Limit Hold'em $ 1,000 - Performance kept spotlessly Jonathan 'Da_Engineer' Driscollalors 5 other Quebec égalemernt survive the first day.
Not surprisingly, a monster crowd is registered to this event No Limit Hold'em of $ 1,000, of which thirty Quebec. The day has been profitable for some of them, including Jonathan Driscoll (Da_Engineer) 2nd place, Robin Milette (63rd), Shayne Khanna (83rd), Eric Tetrault (229th), Francois Binette (Greg_29 - 246th) and Michel Morin (292nd).
Quebec eyes are now turned particularly Jonathan Driscoll and kept spotlessly performance during the first day. So, once again, excellent performance of Jonathan 'Da_Engineer' Driscoll who earlier this year finished 10th in the WSOP event # 8.
Action resumes today only 7 players will be eliminated until all survivors are assured of $ 1898. The winner will receive $ 455,356.
Coming up today:
- Jonathan Gagnon-Villeneuve (NessV) on day # 3 of 43 tournament.
- The performance of 6 Quebecois event # 45, especially that of Jonathan 'Da_Engineer' Driscoll
- Beginning Championship Hold'em 6-max $ 10,000 and an Omaha / Stud Mixed event.
For further details, see the forum by clicking the following links:
Event # 40 - No-Limit Hold'em 6max $ 5,000 - Victory Canadian Matt Jarvis.

Event # 41 - Limit Hold'em Shootout $ 1,500 - 3rd place for french Mathieu Jacqmin and win Justin Pechie.

Event # 42 - Championship Pot-Limit Omaha $ 10,000 - Benjamin Lamb taking steps to forget his second in his last event PLO.
Event # 43 - No-Limit Hold'em 6max to $ 1500 - No less than 8 awards in Quebec and Jonathan 'NessV' Gagnon-Villeneuve still very much alive!
Event # 44 - Seven Card Razz $ 2,500 - No miracle for Miguel 'Mig' Proulx.
Event # 45 - No-Limit Hold'em $ 1,000 - A performance kept spotlessly Jonathan 'Da_Engineer' Driscoll; 6 Quebec survive the day # 1.

Results of Québec WSOP 2011 - Update to the event # 44
BLOG COMMENTS POWERED BY DISQUS
---