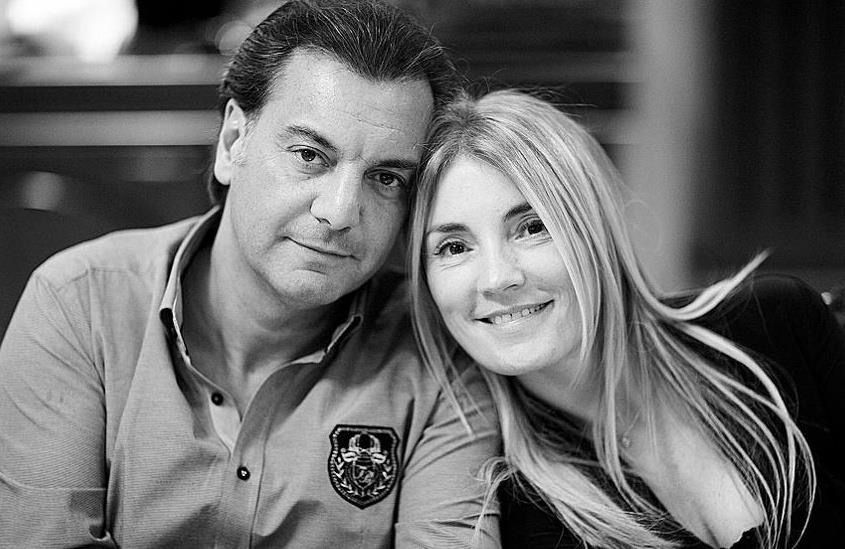 Hi Philippe! I'd like to introduce you to the Quebecers.
1) Who is P.K.?
A passion for poker and player sponsored by PMU for 3 years, then now free as air. Before being a poker player, I am the father of 4 children and married 17 years to the most beautiful woman in the world. I love my family first and foremost. I am passionate about life and I try to enjoy everything that occurs. I am a big kid who refuses to grow up and I want to enjoy everything and do not miss anything. Already very young when my father gave us 10 francs to my brother and me, I spent mine and those of my brother, I wanted to do everything; go to the movies, to the armoury, buy candy, short miss anything.
(2) where does your passion for poker? Tell us a little of your beginnings to this day.
I started to play poker closed it long ago already on to school, and then some parts between friends (not expensive) have allowed me to keep this intact passion.
I finally discovered Texas Holdem thanks to a friend who took me to one day make a tournament in a Parisian circle. It was in 2009, a small tournament at 200 euros, j found it top and j have continued to practice this hobby.
The poker was a hobby for me. The funny thing is that j was regularly going to Las Vegas for 30 years and I had never heard of the WSOP or other poker circuits. I discovered this world very late, and then doing some results on the small tournaments, j decided to try my luck at the EPT of Deauville, a very big tournament for me. It was the first time that I was going to put as much money d in a buy-in. And as if by magic, I deep run and finished 18th, a dream awake for me at the time and I was definitely piqued.
I then chained tournaments with some great performances. I found by chance a sponsor, and I reached my "one time" by finishing second in the final WPT 25 k at the Bellagio for a gain of $ 800,000.
I continue to play even if with Affairs, I have less time, but passion always remains the same.
(3) tell us about what you love most of the poker.
Several things make me love this activity. The first, c, is a taste for performance, the challenge to beat the others and go as far as possible. C is what I love the most. It gives me lots of emotions and pride when I go far in a tournament. Tournament poker is the poker activity which me please the most. I'm not a player online, or a money player.
The second reason apart from the fact that we travel a lot (and it is top to discover d ' other horizons) these are the meetings. I like Exchange, chat with other players that I view around a table. They come from different countries and very rewarding. I have a lot of very good friends everywhere in the world and it is poker which brought me it. J admit to having a soft spot for Canadian players with whom I get along very well. I came in Montreal for the first time in 2013, and I remember that Marc-André Ladouceur had kindly invited me was celebrating Thanksgiving and I found it very nice.
(4) what do you like least Poker?
What I like least, it is difficult to criticize what you love, right? But there are surely lots of things improving in poker. In France, I fought to improve the payouts of tournaments that I was unfair, especially for the money which did not allow players to save their bankroll by ITM regularly. There were a top 5 for my taste too concentrated.
I do not have the language in my pocket and when I don't like something, I say, or I write it.
(5) what are you most proud in life?
Simple question for me; I am proud of my family, my wife and my children. That's it for me. It is my priority and everything I do, is thinking about them. I love that they are proud of their dad.
(6) your finest accomplishment in the world of poker?
No doubt my second place at the WPT Championship in Las Vegas in 2012 where I finished second after having the balloon 5BB. A moment full of emotions and magical. A superb final table which has been described by Mike Sexton, as the best final in the history of the WPT. It must be said that that day, I was in great shape, having nothing to lose, I tried everything and it worked well. I also made two final tables High roller EPT 10 K; Once 3rd–4th once, that also made me live moments of poker. In short, I accumulated more than 1.6millions gains in 3 years and I hope that it's not going to stop there.
(7) tell me about your current and future business plans
I developing a brand with my wife who s calls "American College", a brand of clothing for young people and it starts rather well. We try always to create, innovate and it takes us a lot of time and energy. I always do with passion. I am constantly looking for new business. It is for me a normal balance in life. I can't see myself not only play poker, I m be bored too between tournaments. Need to find the right compromise for not losing your mind.
(8) tell me about Quebec
Quebec, j y came in 2013 for the WPT at the Playground and I quickly fell under the spell. Any d ' first, I find that it is the most beautiful place to play poker. What a comfort, what a welcome! C was just amazing to play in such conditions. J have also benefited from the city, I visited, even though it was very cold. Marc-André Ladouceur had gotten me tickets for a hockey game and it was just extraordinary. I have same summer dinner in a restaurant when one arrives with his bottle of wine. It is very surprising to us, French. There is only cold holding me, otherwise there would be likely to make I Quebecers one day.
(9) tell me about your France
The France I was born, in Paris in 1963 and my parents came just before North Africa. I have always lived in Paris and I love this city. This is my childhood. It is very pleasant to live, even if today, this n ' is the same thing. L ' atmosphere has changed between politics and economic issues. The future is darker, add to that the recent events. You'll understand that many are thinking of leaving a day if all this is not calmed.
(10) the ideal world for you you see how?
It, it is very difficult, but me I'd like a world where differences are not reflected by the violence. I would love a world where everyone could live, love, enjoy safely. I would love a world where my children could grow up safely. I'm looking for a world of peace, love and joy, but it is far from being the case I continue to dream.

(11) separate poker, do you have other passions?
Oh yes! Horse racing. I play for more than 30 years and I've seen the biggest races in the world. I play, but I can watch a race as watching a sporting event, without playing. I love the horses, it is my favorite animal. I also have a passion for sports, particularly soccer, as you say. I look at all important football games and my team is obviously Paris Saint Germain. I go to the stadium as soon as I can, but on the other hand, I take no bet. In short, I am a big lover of emotions and I love when my adrenaline is enticed.
And I will leave the final word!
Enjoy all that life has to offer, enjoy your own, your parents, your children, all happening quickly, too quickly, should pick up the highlights and live fully.
Life is so short that needed me more to satisfy what I would like to live.
Thank you for answering these questions and I am proud, because I do know in Quebec, a passion for life!
---
Interview with Jean-Pascal Savard, winner of the 40 WCOOP on PokerStars

Next >