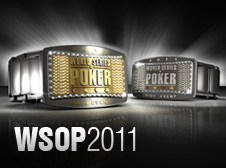 A professional chess player and backgammon wins first bracelet in Event # 38, a 15th position for Jonathan Duhamel and the possibility of another bracelet for 'november niner' Matt Jarvis Tournament # 40, a record for a non- Seeing the WSOP Event # 41, a potential revenge fight between Sam Stein and Benjamin Lamb in Event # 42, 8 Quebecois still competing in hold'em tournament # 43 and Miguel Proulx trying to luckboxer Razz tournament # 44. Here is the summary of the WSOP June 25, 2011.
Event # 38 (No-Limit Hold'em $ 1,500) - The professional chess player and backgammon Arkadiy Tsinis wins first bracelet
Arkadiy Tsinis Blanovsky and Michael were back to finish the headsup that had been interrupted the day earlier. Blanovsky was the one who had the most to do to come out victorious in this confrontation, while his opponent had more than double token him.

It took just under two hours for Tsinis, former professional chess player and world top 20 backgammon can get their hands on the prestigious bracelet. He thus won the sum of $ 540,136, while Michael Blanovsky will console himself $ 336,253. It was, by far, the best performance for both players.


Event # 40 (No-Limit Hold'em 6-max $ 5,000) - A 15th place for Jonathan Duhamel
20 players spread over 4 tables, were back for this event Hold'em shorthanded format. Of these, one could find Canadian Jonathan Duhamel, Daniel Negreanu and Matt Jarvis. Another Canadian, less known one, was also present: Russell Carson. Nevertheless, he had a very short stack (87k chips with blinds 5K/10K and 1k antes)

The day was at least expedient for Daniel Negreanu, being all in with AKo, has not managed to beat his opponent A9s. He therefore went to the 20th position.

The second Canadian Jonathan Duhamel was leaving. After managing to double up in the first moments of the game, Duhamel has been removed on a semi-bluff. Then he revived UTG A2 with assorted heart, he was called by the SB and the BB, creating a pot of 33,000 chips. With a 3-6-9 flop with two cards of heart, SB (Wesley Pantling) has donkbet 44,000. This update was called by the BB, then reraised all-in by Duhamel. SB called setting, while the BB decided it was too much action for his hand. Unfortunately for Duhamel, his opponent with a pair of aces in hand. So you had a card that Duhamel heart can win the pot. Unfortunately for him, the turn and river was in clover, then spades, thereby eliminating the world champion in 15th place. Nevertheless, he won $ 31,315 for his performance.

The other Canadian Russell Carson, has been able to survive a long time with his short stack, but he was eliminated in 14th place the following.

This left the player "November Nine" in 2010, Matt Jarvis, to represent Canada. Things went well for him, so he was able to reach the headsup against Justin Flitz in a duel action-packed. While the headsup was to the advantage of Flitz early, Jarvis was able to resume momenthum and widen a good lead in the second half of the duel.

So we need a fourth day to determine the winner, while Jarvis has a serious lead 8.6m chips against the 2.3m chips Flitz. Things have not been completed so far, while the blinds are only 40k-80k, with 10k antes.


Event # 41 (Limit Hold'em Shootout $ 1,500) - A first in history to cash a blind WSOP player.
The ten winners who will compose the final table are now known, while 60 players took part in 10 different tables and only the winner of the final table happen.

The winners are Dom Denotarisfefani Mathieu Jacqmin, Jordan Rich, Stephen Bass, Christoph Kwon, Justin Pechie, Dale Eberle, Adam Tyburski, Ari Engel and Eugene Katchalov. This last player who attracts the most attention, while Katchalov, a member of Team PokerStars pro (Ukraine) won earlier this year his first WSOP bracelet in Stud event. It is the favorite to repeat his feat and become the first player to win two bracelets this year.

Special mention to Hal Lubarsky, the last player to be eliminated from the day. Hal Lubarsky lost his sight in 2004 and can not see more than a few inches in front of him. Nevertheless, it continues to be present in tournaments and is accompanied by his assistant, who must whisper his cards in his ear. Thanks to its performance that allowed him to hand over $ 4,118, Lubarsky became the first blind person to win a prize in the WSOP.

The finalists will return today to the final table. Each player is now assured of $ 10,378, while the winner will receive $ 167,060.


Event # 42 - Championship Pot-Limit Omaha $ 10,000 - Samuel 'aaajack' Chartier out scholarships ... and you will be on another duel between Benjamin Lamb and Sam Stein?
One Quebec has been able to survive the first day of the Championship Pot-Limit Omaha $ 10,000. Unfortunately, Samuel 'aaajack' Chartier had to work hard to repeat his feat in the second day, when he ranked 109th on the remaining 156 players and had to sneak into the first 36 places to ensure a $ 20,699. Unfortunately for him, he was not able to achieve this challenge and had to bow before paying places.

The second day of hostility took place more slowly than expected, while still 38 players and the bubble has not yet burst. This is the first time this year that the paid positions are not met on day 2. Championship may therefore use a day longer than three days originally planned.

Benjamin Lamb is currently dominating the championship. Lamb had also finished in 2nd place in another event Pot-Limit Omaha this year ($ 3,000 PLO). The winner of this event was also ... Sam Stein who is also in a good position in the championship, appearing in 3rd place.

Action resumes today ... Are we entitled to a duel between revenge Benjamin Lamb and Sam Stein?


Event # 43 - No-Limit Hold'em $ 1,500 - 8 Quebec still in the running!
We got on a monster crowd for this event to $ 1,500 No-Limit Hold'em main event while the World Series is fast approaching and the starting day of the tournament was a Saturday ... and yes, the crowd was waiting for you! No less than 2,857 players have to join this tournament, creating a total prize pool of nearly 4 million that will share the first 297 positions (including $ 675,117 to the winner!).

Of these, more than thirty Quebec participated in the event. Despite nearly 2,500 eliminations yesterday, 8 Quebecois still remained in contention:
The steeze Francis-Nicolas Bouchard: 39th
Benoit Forcier: 54th
Marc-Étienne Blais (Marke): 84th
Ian Oshaughessy: 108th
Robert Bonneau 183rd
Patrick James McNamara (pjamez) 185th
Jean-Christophe St-Pierre (jcstpierre): 221st
Francois Billiards (roo_400) 239th

Action resumes today while still 93 players to be removed before everyone is assured of $ 2,815. At the moment, the Norwegian Age Spets which sits atop the standings.


Event 44 - Seven Card Razz $ 2,500 - Miguel 'Mig' Proulx pass on day 2!
The beginning of the Razz event was delayed by an hour due to the crowd too large for the event # 43. Despite numerous in the event of no-limit hold'em which began simultaneously crowd, the crowd was also to go to this tournament Razz while almost as many players as last year are subscribing (363 entries this year, against 365 last year).

Only two Quebec chose the Razz event rather than Hold'Em tournament: Miguel 'mig' Proulx and Erik Cajelais. While it has not been able to survive the first day, Miguel Proulx has had the happiest hand and was able to finish in 103rd rank despite his inexperience in Razz. He also scored on his twitter: "Playing the 2500 Razz No clue how to play but I'm running atm Good [...] Better be lucky than good They Say..!". It will be back today with many players known as Jason Mercier, Chad Brown, Victor Ramdin, Tom 'durrrr' Dwan, Erik Seidel and others.

Action resumes today while the remaining 166 players will be part of the first 40 positions to ensure the amount of $ 4,475 and the winner will collect $ 210,615.


A monitor today:
- The Canadian Matt Jarvis headsup in NLHE 6-max (Event # 40)
- The 8 Quebec still in contention in NLHE # 43
- Miguel "Mig" Proulx attempt luckboxer Razz
- Start another event NLHE $ 1,000

More details on the forum by clicking the following links:
Event # 38 - No-Limit Hold'em $ 1500 - Arkadiy Tsinis wins first bracelet
Event # 40 - No-Limit Hold'em 6max $ 5,000 - Duhamel finished in 15th place.
Event # 41 - Limit Hold'em Shootout $ 1,500 - a record for a blind WSOP.
Event # 42 - Championship Pot-Limit Omaha $ 10,000 - Samuel Chartier out scholarships
Event # 43 - No-Limit Hold'em 6max $ 1,500 - 8 Quebec survive the first day.
Event # 44 - Seven Card Razz $ 2,500 - Miguel 'Mig' Proulx attempts luckboxer a variant that is not known.
Results of Québec WSOP 2011 - Update to the event # 42
BLOG COMMENTS POWERED BY DISQUS
---