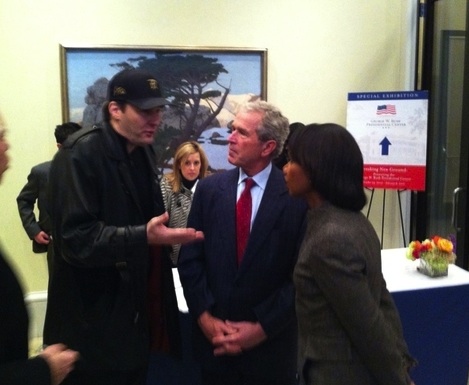 One could read this week on the Twitter of Phil Hellmuth that he had the chance to meet former US president George W. Bush. According to his account, Mr Bush would be gone with his latest book. But what was the purpose of this interview? Do talk about him? If this is the case, obviously that it's mission accomplished.
But of course, not only in property. Tony Guoga (aka Tony G) commented: "anyone can get an invitation from nowadays [...]" Is it me where it looks like Phil did as the Devilfish that you request to pose for a photo and then declares that you are the best buddies? [...] I'm sure that your mates Michael Phelps, Dr. Dre, Snoop Dog, and Hilary Swank were there? "You should really tell us every time when you meet celebrities... There is no need to be so humble".
It is during his visit to Dallas for the SuperBowl XLV Hellmuth stopped at Southern Methodist University to meet with George W. Bush.
Hellmuth could not help to go tell on his Twitter a few minutes following encounter: 'Wow! I offered to George Bush a book autographed, a can of beer signed for the SMU library. We very much agreed! I found it very committed and witty".
If you have any ideas of legends for the photo (see above), send them to Tony G! If it finds it interesting, it will send you $ 100. This is at least what he said in his blog on Party Poker.
Several interesting legends have already been written to accompany this photo. You can see on the TwoplusTwo forums.
Honorable mention to: "I can teach you how to dodge bullets, I've seen you already know how to dodge shoes so you have potential".
Discuss this article on the forums of PokerCollectif: Phil Hellmuth meets George Walker Bush
BLOG COMMENTS POWERED BY DISQUS
---