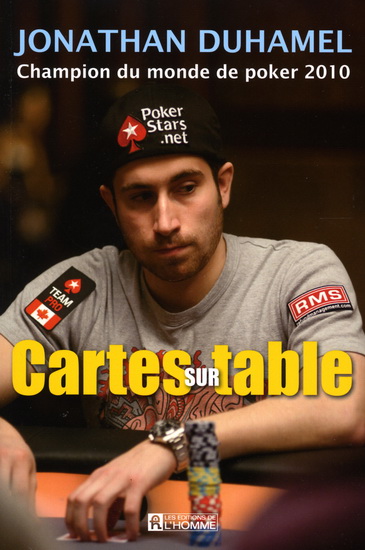 For those who missed the news, we organize a little very simple contest.
1 - You like us on Facebook if it is not already done: facebook.com/pokercollectif
2. you write on our wall why you like and/or what you want for 2012, for you, for the world of poker, or other.
Messages can be long, but conveniently short.
Next week will be make a copy of the book of Jonathan Duhamel cards on table whose criticism is available here: http://www.pokercollectif.com/Poker-et-media/livre-cartes-sur-table-jonathan-duhamel-wsop-2010.html
Taken from the article above: "Jonathan is the first Canadian to win a prestigious title at the WSOP and enter in his bubble, in his world, his head of passionate poker player is something interesting. For poker enthusiasts who are very interested in the psychology of the player, it is an interesting read. Winning at poker is not only to have a technical game, but it is also with the other qualities which talks about Duhamel. Without them, the success will probably never come. In short, the book of Jonathan brings a brick more to the already immense architecture of the poker books."


Good luck to all!
Discuss this news on PokerCollectif forums: contest: win the book by Duhamel loving on Facebook
BLOG COMMENTS POWERED BY DISQUS
---