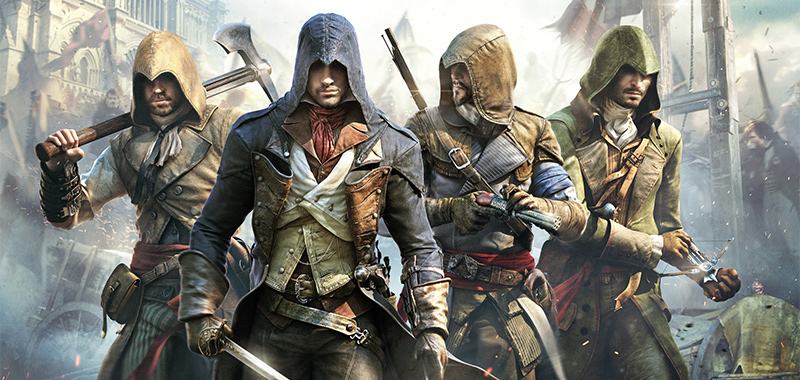 The launch of highly anticipated Assassin's Creed Unity two days ago is a new source of controversy for Ubisoft. This one is reflected with a drop of more than 8% of the Ubisoft action while investors lose confidence in the Publisher to deliver a complete and functional game from the day one.
After the inglorious launch of the game Watch Dog, which had seen an incredibly reduced graphics versus what Ubisoft shown, Assassin's Creed Unity is the latest game from Ubisoft that suffer from unfulfilled promises.
Another game which got a decrease of visual quality, less important than Watch Dog, but still become commonplace from Ubisoft, many bugs and game's horrific performance are increasingly documented by Internet users. To the point that it becomes incredible that Assassin's Creed Unity had passed the Microsoft and Sony certifications.
The character who falls through the ground, the faces that disappear, incomplete animations, physical issues, the player floating above the ground, the list is long! We must also add the performance part of the game, while on PlayStation 4 and Xbox One, it regularly fluctuates between 18 and 25 frames per second, making it difficult to be a fluid game. These problems are also visible on Windows PC, while even a better than necessary PC suffers from these performance problems.
It is possible to see a few of these bugs in the screenshots below:
Ubisoft today recognizes these problems and promises to solvethem. In a first patch, Ubisoft hopes to address the following:
Arno falling through the ground.
Game crashing when joining a co-op session.
Arno getting caught inside of hay carts.
Delay in reaching the main menu screen at game start.
Therefore, we will have to wait a second update to see these other points covered:
Frame rate issues.
Graphical and collision issues.
Matchmaking co-op issues.
Helix Credits issues.
Although Ubisoft reaction is normal to repair their error, it's still another incomplete and sloppy game from Ubisoft. And if it takes the comments from the players who have access to the latest Beta version of racing game The Crew, the next "hit" from Ubisoft, the reputation of the editor is unlikely to improve soon.
BLOG COMMENTS POWERED BY DISQUS
---