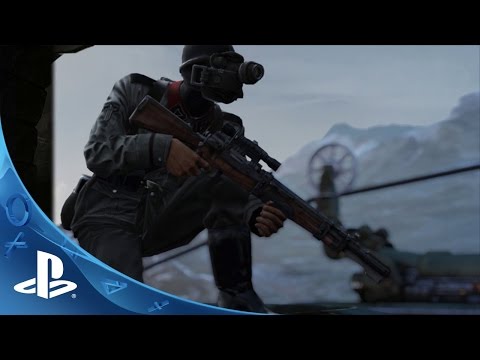 http://www.playstation.com/en-us/game...

Before The New Order... there was The Old Blood!

Watch the gameplay debut trailer for the all-new standalone prequel to everyone's favorite Nazi-blasting first-person shooter of 2014, Wolfenstein: The New Order! See the live gameplay debut live from PAX East 2015 on Twitch.TV/Twitch. Streams start at 10:30 am est on both Friday, March 6th and Saturday, March 7th!

Arriving digitally on May 5th for $19.99 on PlayStation 4, Wolfenstein: The Old Blood takes our hero BJ Blazkowicz back to the year 1946 in an adventure that spans eight chapters and two interconnected stories (released together) that will lead into the events you know and love from The New Order.

Part one of Wolfenstein: The Old Blood - Rudi Jäger and the Den of Wolves -- pits BJ Blazkowicz against a maniacal prison warden as he breaks into Castle Wolfenstein in an attempt to steal the coordinates to General Deathshead's compound. In part two – The Dark Secrets of Helga Von Schabbs – our hero's search for the coordinates leads him to the city of Wulfburg where an obsessed Nazi archaeologist is exhuming mysterious artifacts that threaten to unleash a dark and ancient power.




https://www.wolfenstein.com

May contain content inappropriate for children, visit www.esrb.org for rating information

Wolfenstein®: The New Order™ is a fictional story set in an alternate universe in the 1960's. Names, characters, organisations, locations and events are either imaginary or depicted in a fictionalised manner. The story and contents of this game are not intended to and should not be construed in any way to condone, glorify or endorse the beliefs, ideologies, events, actions, persons or behaviour of the Nazi regime or to trivialise its war crimes, genocide, and other crimes against humanity.
BLOG COMMENTS POWERED BY DISQUS
---