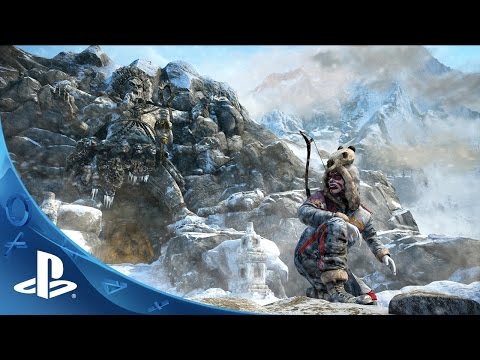 http://bit.ly/1Dr6bQO

Your helicopter has crashed on an unforgiving Himalayan ridge. Explore the frozen landscape and capture, upgrade, and protect your camp from a mysterious cult. You are not alone, but will you survive? In the darkest caves, The Awakened Ones stalk their prey…

Capture the camp to survive in the valley and fight this cult that will try to regain control at night.

NEW OPEN WORLD
Explore and survive the new beautiful and majestic landscape of Kyrat at the top of the Himalayas.

DEFEND AND UPGRADE YOUR CAMP
Once you capture the camp, this location will become your safe house. Fortify your camp by completing side quests during the day, and defend it from waves of attackers at night.

UNCOVER THE MYSTERY
A mysterious cult inhabits this valley and now hides a secret based on old legends. Discover the secret behind the cult of The Awakened Ones, and survive the yetis.

http://www.farcrygame.com

Rated Mature: Blood, Intense Violence, Nudity, Sexual Themes, Strong Language, Use of Drugs

© 2015 Ubisoft Entertainment. All Rights Reserved. Far Cry, Ubisoft and the Ubisoft logo are trademarks of Ubisoft Entertainment in the US and/or other countries. Based on Crytek's original Far Cry directed by Cevat Yerli. Powered by Crytek's technology "CryEngine".
BLOG COMMENTS POWERED BY DISQUS
---
PlayStation Store Spring Fever 2015 Lineup Trailer

Suivant >